The Zero White Cast Non Oily Sunscreen

Rain Or Shine Daily Moisturizing Sunscreen


Say goodbye to greasy, white sunscreen.

Non-greasy, and does not clog pores.

2x award winning sunscreen that goes on smooth and dries clear.

No white film, and suitable for all skin tones.

Dermatologist recommended. Fragrance free. Cruelty free. Benzene free.

Improves skin with Vitamin E, Hyaluronic Acid, Green Tea, Licorice Root, Ginseng.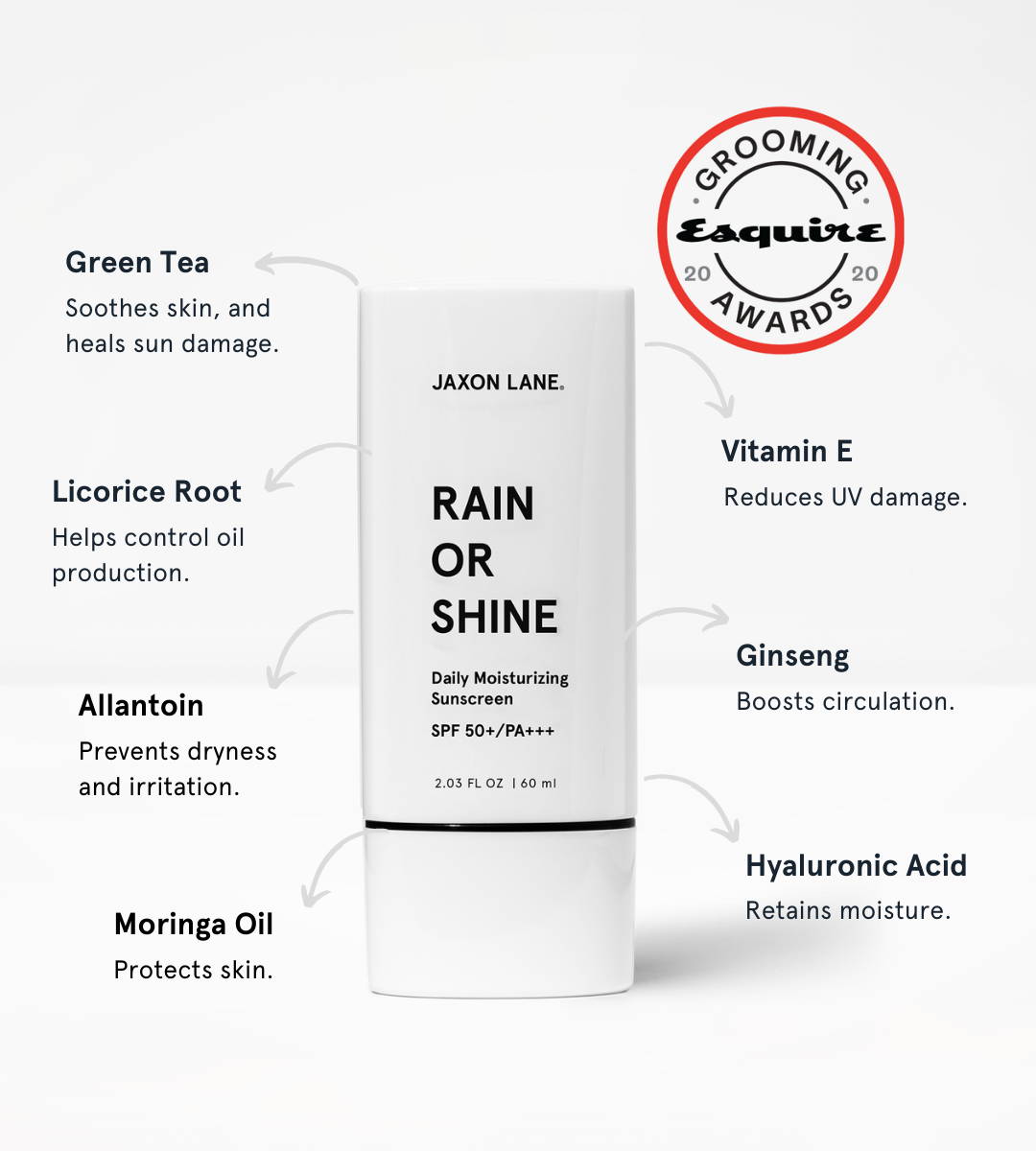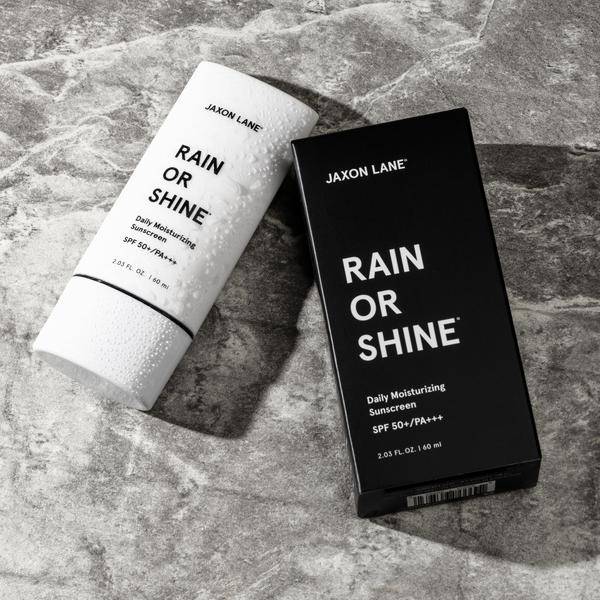 Hero ingredients: Vitamin E, Hyaluronic Acid, Green Tea, Licorice Root, Ginseng.

Active Ingredients: Octinoxate 7%, Homosalate 3%, Octisalate 3%, Titanium Dioxide 1.5%
Apply liberally 15 minutes before sun exposure. Reapply every 2 hours and after swimming. Children under 6 months: Ask a doctor.
We live to create the best products in each skincare category, bar none. But don't just take our word for it, the proof is in the pudding! Since 2019, our products have won awards from GQ, Men's Health, Esquire, Brides, Askmen, and more.

Rain Or Shine Awards
1. Best Sunscreen: Esquire 2020 Grooming Award

2. Askmen 2020 Grooming Award
Why Our Zero White Cast Sunscreen?

Award Winning
Best Sunscreen: Esquire 2020 Grooming Award | Askmen 2020 Grooming Award
2-in-1 Sunscreen and Moisturizer

Antioxidant packed sunscreen that doubles as a light moisturizer. Protects against UVA and UVB rays.
Light Weight and Leaves no White Cast
No white cast, non-greasy, doesn't clog pores, and doesn't smell like sunscreen.
Hundreds Of 5 Star Reviews

If you break out easily, this is a good option for you. It's lightweight, non-greasy, absorbs quickly into the skin but has a lot of staying power. I use Retin-A so my skin is highly susceptible to sunburns. I bought this last month and have used it daily. I spent a week at the beach this month, and didn't burn at all. My skin has also stayed clear of blemishes which is just an all around win in my book. I'm absolutely delighted.
FINALLY! Found a sunscreen that doesn't make me feel gross, slimy, greasy, white, hot! It soaks in, and my skin feels so soft. It provides a matte finish. I also use it on my arms because I love the feel of it there too, and it doesn't get all over my black leather car seats, or my clothes. Promise you will love this! Now I actually don't hate putting sunscreen on! I put it on my chest, neck, face, and arms, and it feels great!

I've tried (what feels like) a zillion different sunscreens for my face. And I've rejected a zillion of them. This is the first sunscreen I've found that doesn't turn my face white or dry it out. And it works well for my (pasty) white complexion. I love love love this sunscreen. My only request is that they make it more affordable to use in larger quantities so I can ditch the sunscreens I use on the rest of my body and just use this one.
Holiday Season Deals are Live!